Simon Woodcock of Conference Photography Australia discusses the importance of professional photographers and videographers working together to achieve the best result for their client.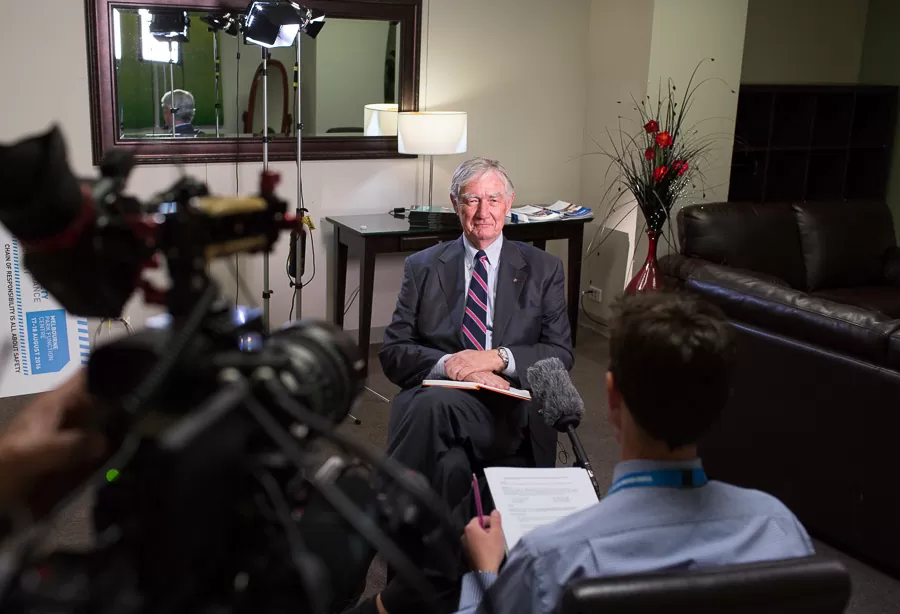 As well as photographing expos and conferences, I also get commissioned to take photos within businesses for corporate clients to use on their websites and various marketing channels, ranging from annual reports to their Instagram account.
It could be a candid black and white of Sam from the accounts department which gives her an approachable and friendly appearance or a more formal shot of an executive with the company logo or cityscape in the background that can be released to the media for publication. The options, variations and end uses are almost endless!
Take a look at some of the work I have created for various corporate organisations at www.conferencephotographer.com.au and do feel free to leave a comment with your thoughts.
Whilst creating some corporate photography for a small publishing company I overheard a member of the sales team coin the phrase 'It takes Team work to make a Dream work", and I remember wanting to roll my eyes and laugh at this phony sounding motivational mantra.
That was several years ago now, and since then I've actually grown to appreciate the sentiment behind it, especially now that I have worked alongside numerous other videographers and photographers on expos, awards nights, conferences and corporate functions.
Co-operation between professionals is important and nearly always mutually beneficial, not just to the photographer and videographer, but ultimately to the client.
An easy and harmonious working environment makes the photo and video team look professional and competent. This also reassures the client that everything is under control and also reflects well on the client, as their delegates view the photographer and videographer as being part of the organising team or business, which in effect, they are (even if it is just for one day!).
Great benefits I'm sure you'll agree - and the cameras haven't even been switched on yet!
Working alongside a videographer or photographer is a great way to gain a new angle or perspective on a scene. It allows for collaboration to create a shot which may not be possible when shooting alone. It's another reason why I recommend to clients to book photography and video services together from aligned providers to achieve the best outcome. They can often anticipate each other's next move, will not get in each other's way and are good at spotting details or scenes that may be useful to each other.
When shooting corporate videos during conferences or expos it is quite common for the photographer to duck in and grab a few frames while the videographer is setting up or composing the scene. Again, this only works when there is an understanding and co-operation between them. It's also a great time saving device, as the subject is kept busy during what can sometimes be a boring wait while microphones are set up etc, and also saves them hanging around for photos after or before the video. In short, it makes the experience slick and painless for everyone.
I've outlined several of the benefits of booking professional corporate videographers and photographers who have worked together previously so I hope you'll consider these factors when booking your next expo, conference, corporate function, product launch, awards night or simply would like to refresh your business and create some new videos and photos.
Check out our Event photography.